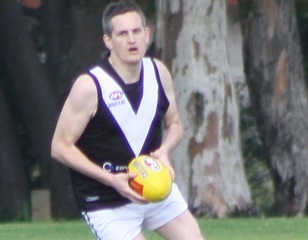 Player Sponsor Profile – Travas "Sandy" Franklin
Player Sponsor Profile –  Travas "Sandy" Franklin
Age: 41
Partners Name: Jacqui
Children: None yet.
Occupation: Aftermarket Representative Manager for Volvo/Mack and UD Truck Dealership
Hometown: Originally from Three Springs WA
AFL Team Supported: Dockers
Number of years at Wembley Vets: This is my third season with Wembley after two with Vic Park Pigs
First Club: Three Springs Football Club
Clubs I've played for: Three Springs, Wesley College, Vic Park Pigs
Premierships played in, won, lost: 1984 Grand Final: Three Springs Nippers V Dongara, it was an epic clash, hot in the clinches as both teams played with 18 midfielders. Tears, vomit and blood flowed but ultimately we lost by a point despite me kicking 8 goals off a wing (if memory serves).
Best playing memory: Got to play the curtain raiser for  the Derby a few years ago (for Vic Park Pigs vs Eastern Hills).  The game where Ballas though he got a goal to win the game after the siren but didn't.
Worst Football injury: Broke my pinky in that game but didn't know it at the time, certainly didn't make a big deal about it like Bero.
At the bar, you'd most likely find me with a wheat beer in my hand.
If it's on the menu, I will probably order: Pork Belly
Three past footy champions to invite to lunch: Shane Parker, Woosha and Stuart Dew (just so I can crap onto him about how awesome he was in the 2008 GF.)
Other Leisure Activities: Going to the Dockers home games, music, watching stand-up comedy and eating out.
Why did you choose to be Player Sponsor: Money laundering essentially.